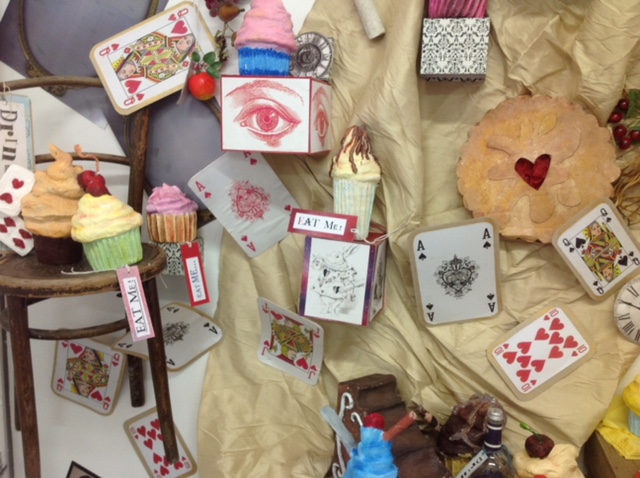 St Angela's Ursuline
The 'Alice's Adventures in Wonderland' project is a 3D programme run with Year 9 students at St Angela's. Pupils begin by researching the illustrations of Arthur Rackham and John Tenniel for visual inspiration and they also analyse part of the text by Lewis Caroll to help them begin generating ideas for their practical work.
Whilst developing ideas linked to the theme, students also study paintings by Wayne Thiebaud, an artist associated with Pop Art to explore his use of light and colour and also the work of the set designer Shona Heath to explore her imaginative use of scale when creating props.
 Students gain skill in both construction and modelling techniques as they work with papier mache, card, wire and mod rock, building a 3D outcome. Once practical work has been completed, students are invited to use their sculptures as props in a photo shoot creating their own version of the Mad Hatter's tea party. Students are able to experience different roles from within the creative industries; photographer, stylist, make-up artist, set designer etc. as they work in groups to create a photo shoot linked to the theme Alice's Adventures in Wonderland.
Manor Primary School
Whole school project 2014
The aim of this project was to promote and develop thinking skills and encourage the pupils to celebrate differently ways of thinking. They looked at the work of two artists; Gillian Wearing and Annette Messager . Elements of those artists work were then incorporated into their own artwork.
Each year group looked at an artists work using the Philosophy for Children process. This generated a whole range of questions which were then used to try and develop the children ideas. Each child was then photographed with their own question and it was laminated and decorated with a ribbon, a couple of beads and a feather. The feathers represented sending the question out into the works. They were then hung together in a circular formation to create 'Clouds of Questions.'
Some question examples
Does magic make us happy?
Will we evolve into smarter beings?
Does religion matter?
Where did red come from?
Is love worth sharing?